Customer Relations Management (CRM) and Contact Management are key components of any individual's or organization's success.
ACT! is the most popular contact manager software in the world because it is highly- customizable, inexpensive, multi-user, network-ready, easy to learn, runs and syncs with Google Calendar and Contacts, Microsoft Outlook, PCs, laptops, smart phones and tablets.
PCH&S has been installing, customizing and training ACT!– based contact management solutions for SOHO organizations and individuals for more than two decades!
Dave Goldsmith is a frequent lecturer on PC-based time-management strategies, and is the co-founder and developer of 9Dot's BetterACT! for Remodelors.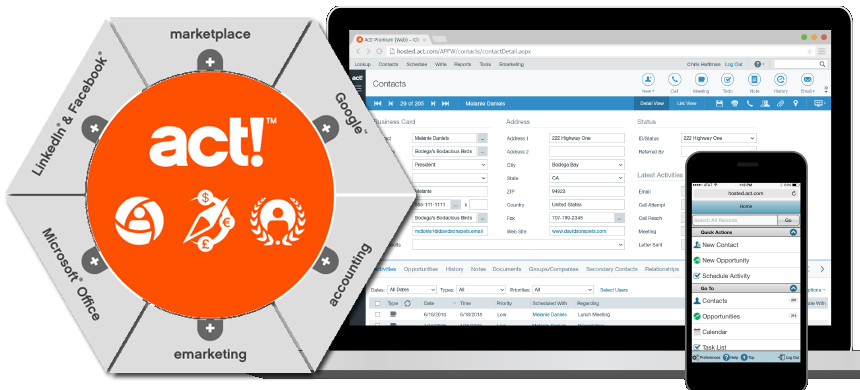 ‣ Shareable Contact Database
‣ Shareable Contact-Centered Calendar
‣ Alarms and Automated Follow-Up Activities
‣ User and/or Contact-Centered Tasks and Histories
‣ Integrated Email and Word-Processing
‣ Built-In Document Management
‣ Unlimited Notes (Journal) for Each Contact
‣ Search, Sort and Report Across all Records and All Fields
‣ Report Writer
‣ Contact and Group Views

‣ Unlimited Fields in Each Record
‣ Unlimited Layout of Records in Each Database
‣ Unlimited Reports, Including Mail Merge for Label Printing, etc.
‣ Unlimited Word-Processing Templates (for Mail Merge)
‣ Syncs with Google Calendar and Contacts
‣ Syncs with MS Outlook Calendar and Contacts
‣ Integrates with MS Word (for Mail Merge)
‣ Integrates with QuickBooks Accounting Software
‣ Shareable on LANs and in the Cloud
‣ Shareable on Smartphones and Tablets
I recommend Dave to all my friends and neighbors and it is a good feeling when they call to tell me how pleased they are with his service.  He is prompt to respond, shows up in a timely fashion. I personally am so pleased with PCHS that I invited David to speak at a community association meeting Entrepreneur Night in 2016.